Some things to remember
We will be swimming with a current while in the river. The wind picks up as the day goes on, bringing rougher water, and there is a wide section toward the end of the swim that has been quite rough each year as well.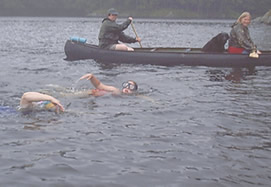 A little caution may be needed in some of the narrow sections of the river. Boats, large and small, will pass us during the swim, throwing various heights of waves (most of them will be considerate and slow down, thus throwing very little wave). Ideally, the swimmer should be along the shore and you (your canoe) between the swimmer and the boat traffic. We will have people at both locks telling boaters who travel through that they will encounter Swim For The Cure swimmers along their way.
Everyone will swim at different speeds, especially at different sections of the swim (depending how far they go). This is NOT A RACE, but an endurance event to raise funds for a very important cause that touches many people. It is about setting personal goals and achieving them.
A swimmer's view
You are the eyes of your swimmer! She or he will see little from their vantage point and may or may not be able to swim straight in open water. Your canoe or kayak will be the beacon and direction setter. I usually swim about 3-5 feet off of Jamie in his canoe. He sets the direction and I set the pace. Though (in my tired state) I sometimes feel we are going crooked, Jamie is much better at following landmarks than I (and assures me that he does not go crooked). Your goal is for your swimmer to travel the shortest possible distance.
You are also protection from other boats, and during the sections that your swimmer is close to shore, you will want to be between your swimmer and boat traffic. Boats will be able to see you well before they can see a swimmer and should slow down as they pass.
You are also a timekeeper, as we like to know how long we have been swimming. Those crew who are with relay teams will also watch for landmarks and ensure the safe exit of one swimmer and safe entry of the next.
Your job also includes providing us with fuel (see the "tips" page). To take their breaks, many swimmers will sit on a "noodle" (actually two duct-taped together) that you will pass to them. This helps to keep them afloat, gives them a rest and keeps them above the waves so they don't drink the river while fueling.
I usually break for sports drinks every 45 minutes and add a gel to the sports drink every hour and a half. Some swimmers like to improvise their break schedule: we usually stop because we are tired and/or low on fuel; be patient with us. Be ready when we break and be encouraging about our progress.  When tired, we will break more often and helping us get lots of fluids in really helps prevent dehydration.
You are also the ears and voice of your swimmer. Steve and Jamie tell me that many people along the way ask what we are doing, wish us well, clap and cheer us on. Swimmers can't hear much in the water, and it is wonderfully encouraging to hear from you about the positive comments from people along our way. You are our primary cheerleader: encourage, smile, ignore our nasty comments and grumpyness, encourage and encourage. You cannot imagine how much your support means to us. Let us know what you know about how the rest of our team is doing. We will appreciate any information as it helps us keep swimming.
Check with your swimmer well before the swim about how much they want to be pushed when they start to get tired. You need to decide this up front to save disappointment later. I had less than a mile to go on my first swim when I wanted OUT! Steve checked the distance, had me take a break and some refreshment; then he used charm, wit, encouragement and lots of love to get me to finish the last mile. I was so glad that he did.
Fundraising
We anticipate having some media involvement with articles in the papers and some coverage on the local radio stations. The Barrie and District Unit of the Canadian Cancer Society is collecting the funds that we raise through our pledges (receipts will be issued for all donations over $10). They will also have a tent set up at the end of the swim.  You are encouraged to set up an on-line donation page and Debbie will send information about how to do this a few months before the swim.
Thank you for your participation in making the swim a success!
Equipment Checklist
Canoe or kayak – ideally delivered to Severn Falls before the swim date so it can be waiting at the start for you on swim day.
Lifejackets for all crew members + 1 extra in your canoe/kayak.
Paddle for each crew member + 1 extra.
Orange safety kit for canoe/kayak (can get from Canadian Tire).
Sunscreen, hat, cover-up clothing for sun and/or rain and/or warmth, fluids, food, watch or other mechanism for timing breaks, something to take notes (if needed), cell phone, towel.