Swim Story 2015
This was the first year that we began the swim anticipating that the swimmers would be pulled before finishing as the thunderstorm was predicted to begin as early as 1000 hours.  In the end our day was nearly perfect with almost no wind, overcast skies reducing the sun exposure for the crew, just a few sprinkles and blue sky sneaking out around 0900 hours.  We were a smaller group with 9 swimmers, 7 solo swimmers completing the 12.8 km swim and two young girls who finished Deb's last km with her.  It was the usual early morning beginning at 0430 hours with all swimmers in the water shortly after 0700 hours.  We were all hoping to finish before the lightening.
The air temperature was around 27C and the water remained essentially unchanged from the June temperatures of 24C/74.5F.  A great water temperature for a swim, with longer feedings resulting in goose bumps that disappeared once we were swimming again.  The current was most detectable at the narrows above Severn Falls, through the cut just before Big Chute and a confusing mix of pushing and pulling at the train bridge.  With the limited wind, we had only to deal with boat waves and most were very respectful of the swimmers.
There were several media stories in print, on-line and on radio before the swim and some fabulous pictures captured by Laura Popplow again this year. Have a look at the 2015 Swim pictures.
Name
Solo/Team
Crew
Start / Finish
Swim Time
Josh Reid
Solo
Jennie Popplow
0656-1112
4h16m
Bonnie Moore
Solo
Karen Gregory
0558-1050
4h52m
Peter Van Velzen
Solo
Jack Vanderkooy
0707-1205
4h58m
Debbie Bang

Lauren Reynolds

Meghan Hastings

Solo

Solo last km

Solo last km

Jamie Myles

Rory Hastings

0556-1114

1040-1114

1040-1114

5h18m

34m

34m

Deborah Durbin
Solo
Janet Durbin
0712-1300
5h48m
Jay Serdula
Solo
Paul Blackwell
0651-1250
5h59m
Ibrahim Attieh
Solo
Neal Morris
0600-1227
6h27m
As we were a smaller group of swimmers and we were able to get into the water earlier, the swim was finished by 1300 hour.  There were some personal bests this year and the first time swimmers were very impressive.  As always, it is so nice to finish and all the leg cramps, sore shoulders, backs, legs, knees etc. forgotten as we look up to the clapping crowd at the end.  I had the added joy of being accompanied on my last km by Laurel and Meghan – two young girls with cottages on one of my training swim route.  It was such a thrill to know I would have company on the last leg and their excitement was very special to me.
A huge thank you to our organization crew – the swim is a success because of what each of you does.  To Cathy Myles for getting all the swimmers checked in and organized before they get in the water, to Laura Popplow for the wonderful pictures and helping me make the wraps, to Don Popplow for early morning pick-up and checking on swimmers.  To Kay Soares for blocking the big boats and following the swimmers, giving direction.
A special thank you to Bob Snider of the River Emporium who has donated ice for the swim each year – keeping our homemade wraps, cookies and water cold as the swimmers all arrive at different times.  Your support of the swim is so appreciated each year!  All receipts were handled via the Swim for the Cure swimmer's on-line donation pages and by the Barrie Canadian Cancer Society again this year.  We are very thankful to Joyce and Dave Mayne and Pam Poyntz for this assistance at the swim and your kind words to each of us as we finished.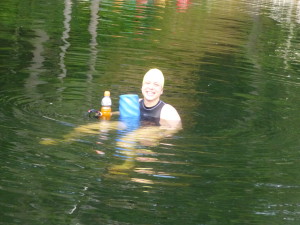 On behalf of all the swimmers I would like to acknowledge our paddlers.  You make every effort to take us the shortest route, smile and re-focus us when we "whine".  You read our body language and find ways to encourage and maintain our hope that we will finish AND we all did finish.  We cannot do this swim without you. Thank-you!
I would like to specifically thank Jamie Myles, my brother, who paddles for me each year, for guiding me the shortest route, letting me know about the other swimmers and your warmth and caring at each feeding. AND most importantly … to Steve Bang, the admiral of the swim – the man who takes care of all the small details while I have a leisurely swim … another successful year!
We received two special gifts this year:
The Ontario Division's Cancer Society Celebrating Impact in Community Fundraising Award for 2015
AND
A sincere thank you to all of us and a hug from a woman; a breast cancer survivor of 9 years
Together we raised over $15,000 for the 15th Annual Swim for the Cure, bringing our total to over $223,000 for women, men and children affected by breast cancer. And we welcomed and swam with 4 new first time swimmers … 139 swimmers have participated in this swim over the 15 years.  Are you our new swimmer in 2016?
Special Note for interested relay swimmers: If you would like to be part of a relay team for 2016 – email me. I have had a couple of people express interest in being on a relay team.
If you are reading this story and have not yet swum with us, please consider swimming next year for our 16th annual swim.  Come as a solo swimmer, 12.8 kms / 8 miles or 7.8 kms / 4.9 miles completing at Big Chute or as part of a relay team completing at Big Chute.  We will need many helpers in 2016 to:
Register and start the swimmers at Swift Rapids; recording the start times;
Pick up swimmers at Severn Falls in the morning;
Accompany the swimmers as a "runner boat";
Record the finish time at Big Chute;
Drive crew back to Severn Falls to pick up their car;
Paddlefor a swimmer
Please consider either swimming with us or helping in 2016.  I can be reached by email at dbang@stjoes.ca or look for our new website at www.swimforthecure.ca.
Could you swim or crew next year … join us for our 16th annual swim!