It was another amazing year and swimming with Hannah was a highlight, reminding me why I started this swim 12 years ago.  This is the second time in the twelve years of the swim that a young woman has entered the water with a message of hope for her mom and in turn for all families and women facing breast cancer.  Neither Marci nor Hannah were dedicated swimmers before they got in the water – they did however have something to say. Both swam courageously, beyond what could be expected as they started and finished their swims believing in themselves and the importance of their message to their moms. It was awe inspiring when Marci swam and equally awe inspiring in 2012 when Hannah swam.
We had a beautiful summer day for the swim this year.  The water was really too warm at 26C/80F, and the current non-existent.  Before we started our swim, we woke the people sleeping in their boat at Swift Rapids, the starting point.  I went over to apologize for awakening the woman so early … she said to me … "you're swimming for cancer", I replied "yes for breast cancer", she then said with great conviction … "you could wake me at 0230 for a swim for breast cancer!"
Twenty-one swimmers participated this year; 12 solo swimmers and two teams, one with 4 members and one with 5 members; everyone was finished within 7 hours.  The only casualty was the homemade cookies Debbie had made … they didn't make it to Big Chute, remaining frozen in the freezer at the cottage ;-).
Our fastest swimmer and return swimmer was Jessica Pothier who was accompanied by her dad Mike. Jessica was significantly faster this year completing in 3 hours 33 minutes.
First time swimmer and niece of Bonnie Moore, Katlin Lamond had a great swim, accompanied by Bonnie's son Zachary.  She completed in 3 hours 57 minutes.
Shaun Chisholm is a returning swimmer and great supporter of the Swim for the Cure, spreading the word about the swim to others.  He was accompanied by his brother Josh Chisholm and also had a faster time this year completing in 4 hours 11 minutes.
Robin Boys returned this year accompanied by Sandra Pritchard and completed in 5 hours 15 minutes.
Kevin Ma was a first time swimmer last year, returning accompanied by Victoria Humphreys and Benson Lam and completing 45 minutes faster than last year in 5 hours 15 minutes.
The Severn Seals, woman-ed by Leslie Seal and captained by Rob Seal, aka Captain Sparrow, returned this year with a new swimmer. Leslie Seal, Marion Rabeau and Ingrid Vanderbrug convinced last year's crew member Becky Ellis to share the distance and completed in 5 hours 22 minutes.  They were accompanied by Peggy and Henry Lei.
Marilyn Korzekwa accompanied by son Mycola has completed the swim many times, pacing alongside Debbie Bang again this year until Debbie met up with Hannah Wight.  Last year, Debbie paced for Marilyn on her very successful English Channel crossing in August 2011 from which she received an award for the toughest crossing.  Marilyn completed this year in 5 hours 30 minutes.
Bonnie Moore has been away from the swim for a few years, returning this year and bringing her niece along.  She was accompanied by Ford who also accompanied her on training swims on the Severn.  Bonnie completed in 5 hours 33 minutes.
This year I swam for Cheryl Wight especially, Gary (her husband), Hannah (her 14-year old daughter) and someone else (who knows who she is).  The swim meant so much more this year; I trained from later May in Lake Ontario weekly in preparation as well as on the river.  The 12.8 km distance is significant … though somehow this year the kms just flew by.  Jamie (my brother) was the same amazing, caring and loving canoeist beside me, leading the way, again this year and I had the pleasure of swimming beside Marilyn K (who I paced the English Channel with last year), Steve (husband) took care of all the little details, same as always.  The difference was about getting to Hannah!
This amazing young woman had set a goal … she was swimming my last 2-2.5 kms, into Big Chute with a message of hope for her mom.  The journey to becoming a breast cancer survivor is grueling and complicated and not for the faint hearted.  It requires courage, tenacity and a never give up attitude.  Hannah had done a lot of training between our July 3 practice swim and Saturday July 21st! She swam head in breast stroke, so strongly and with such determination, with just 1 stop to fuel; completing her distance in 1 hour and 10 minutes! My total swim time was 5 hours 49 minutes.
Both Cheryl and my mom were there to watch Hannah and I come into Big Chute … an awesome and emotional finish!
Jay Serdula travels all the way from Kingston to swim each year and is a great ambassador of the Swim for the Cure.  He was accompanied by Claude this year and was 21 minutes faster than last year, completing in 6 hours 14 minutes.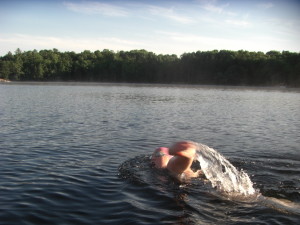 Jennie Popplow has just moved back from England and returned to the swim. She has swum each year since the beginning, except while she was living in England.  It was wonderful to have Jennie back and to watch her finish after so many years in the great time of 6 hours 15 minutes.  Husband Chris accompanied her.
The Katz Family and Norma Jack have been enthusiastic supporters of the Swim for the Cure since the early days.  The "Katz team" share the distance and all swim in together at the end, a joyful finish and such fun to watch.  This year Marci, Laura and Amy Katz, Dave Heidenbrecht and Dan Addison swam accompanying each other with dad Howard the grand overseer of the team.  They completed in 6 hours and 54 minutes, just ahead of returning swimmer Norma Jack, accompanied by her son Adam Bender who has been swimming the full distance solo for the last few years.  Norma completed amazingly, one minute faster than last year in 6 hours 56 minutes.  Thank you to the Katz family/team for your commitment to the swim and the awareness you raise about breast cancer each year from your efforts.
Name

Solo/Team

Crew

Start / Finish

Swim Time

 Jessica Pothier

Solo
Mike Pothier
0701-1034
3hr 33m

Kaitlin Lamond

Solo
Zachary
0642-1039
3hr 57m

Shaun Chisholm

Solo
Josh Chisholm
0659-1110
4hr 11m

Robin Boys

Solo
Sandra Pritchard
0707-1222
5hr 15m

Kevin Ma

Solo
Victoria Humphreys & Benson Lam
0712-1227
5hr 15m

Leslie Seal
Becky Ellis
Marion Rabeau
Ingrid Vanderbrug

Team
Peggy & Henry LeiRob Seal "Captain Sparrow"
0715-1237
5hr 22m

Marilyn Korzekwa

Solo
Mycola
0637-1207
5hr 30m

Bonnie Moore

Solo
Ford
0642-1215
5hr 33m

Debbie Bang
Hannah Wight

SoloSolo
Jamie Myles
0637-12271116-1226
5hr 49m1hr 10m

Jay Serdula

Solo
Claude
0756-1410
6hr 14m

Jennie Popplow

Solo
Chris
0639-1254
6hr 15m

Marci Katz
Laura Katz
Amy Katz
Dave Heidenbrecht
Dan Addison

Team
Howard Katz
0747-1441
6hr 54m

Norma Jack

Solo
Adam Bender
0746-1442
6hr 56m
The crew and the support team are major contributors to the success of our swims and the overall success of the Swim for the Cure each year.  They manage our feedings, keep us heading in the right direction and support and encourage when we are tired.  Sincere thanks to each of you.  This year we gave out laminated copies of the Swim for the Cure route and this seemed to work well along with the wonderful support boats, in getting everyone to the Big Chute.  Don and Laura Popplow assisted swimmers get to the starting point, offered support, encouragement, directions AND captured wonderful pictures of the swim again this year.  It is an early morning for Don, Kay Soares and Steve Bang, picking up swimmers, crew and canoes/kayaks at Severn Falls and getting them to Swift Rapids for the start.  We so appreciate their willingness to help at such an early hour and their warm demeanour calms many nervous swimmers on the way to the start. They also support each of us and the crew on the way to the finish, answering questions, giving support and encouragement as well as "how far to the end?"
Colleen Shields has completed the swim many times.  This year she was injured and preparing for her Lake Ontario attempt thus offered to manage the chaotic start and finish for the swimmers.  Hard not to be swimming for Colleen, a great coo for the swimmers as Colleen understands the "pre-swim" jitters, chaos at the start and was empathic, caring and patience with all of us.
A very sincere thank you to Bob Snider of the River Emporium who has donated ice for the swim each year – keeping our homemade wraps cold as the swimmers all arrive at different times.  Your support of the swim is so appreciated each year!
All receipts were handled via the Swim for the Cure swimmer's on-line donation pages and by the Barrie Canadian Cancer Society again this year.  We are very thankful for this assistance and help with promoting the swim to the media.
We were so thrilled to have both CTV and the Orillia Packet and Times feature the story of the swim and some of the swimmers.  To put faces to the journey with breast cancer, to make it possible for women, men and families to know that others believe in their ability to heal and to become a survivor.  It is our hope that this message is heard by someone who needs to hear it, through the media.
We; many of the swimmers participate because we know and love someone journeying and/or having journeyed with breast cancer.  It was why I started, to honour my Nana, Christina Morgan and my aunt, Dr. Teri Morgan.  Swimming this distance is so much easier than travelling the journey that is breast cancer.  When we finish at Big Chute, the challenge is over, the discomfort and self-doubt no longer foremost in our minds.  I have had the pleasure of accompanying Cheryl through the first legs of her breast cancer journey along with Hannah and Gary.  I have watched in awe as she has faced the gruelling effects of chemotherapy and returned home after her surgery on September 13, 2012.  The treatment for breast cancer is any or all of "cutting, poisoning and burning".  Not only does the disease take its toll on the women (and some men) the treatment is just as difficult.  It has been my great pleasure and honour to be just a small part of Cheryl's journey and I will be forever grateful as it has taught me about real courage, hope and the unwavering power of belief.
Swim 2012 included 2 new swimmers bringing our total to 117 individual swimmer participants over the 12 years.  We have achieved record donations of over $20,000 this year and over $166,000 for breast cancer research over the 12 years as a result of the incredible work completed by each of the swimmers, crew and volunteers – we are an amazing team!!
If you are reading this story and have not yet swum with us, please consider swimming next year for our 13th annual swim.  Come as a solo swimmer, 12.8 kms / 8 miles or 7.8 kms / 4.9 miles completing at Big Chute or as part of a relay team completing at Big Chute.  We will need many helpers in 2013 to:
1. Pick up swimmers at Severn Falls in the morning;
2. Accompany the swimmers as a "runner boat";
2. Person the food table;
3. Drive crew back to Severn Falls to pick up their car;
Please consider either swimming with us or helping in 2013.  I can be reached by email at dbang@stjoes.ca or look for our enhanced website at www.swimforthecure.ca.
Could you swim or crew next year … it will change your life, for the better!