Champions
It was such an amazing weekend. The weather was awful; overcast and raining and the water was really cold! Our crew were sopping wet and the swimmers were exhausted… but all were jubilant.Our day started at 4:30 a.m. as we were determined to get the first swimmers in the water by 0600 hours. As expected there were many nervous stomachs… except Joanne VanderVies… don't know how she does it. Debbie King and Joanne were on their way by 6:05 a.m. with the sun just coming up and flat water to welcome them. The hustle and bustle began immediately after that. Steve and Josh Bang and Don Popplow headed to Severn Falls to pick up more swimmers and their crews, and the last swimmers went into the water at 7:40 a.m.
Ten swimmers in all took part. Here are their stories:
Our fastest swimmer was Kym Banting,accompanied by husband Darren, reaching Big Chute in 5 hours 21 minutes, battling nausea for most of the swim. Kym spent her breaks lying on cottagers' docks as the motion of the water was making her sick when she was not swimming. Kym, a triathlete, completed her first Ironman Triathlon last year and put everything in perspective for us when she described the swim as a comparable experience to her Ironman. She felt quite "done" at the finish!
Joanne VanderVies, who has participated in all three years of Swim for the Cure, completed her swim in her personal best time of 8 hours 20 minutes with stepdad Bob along side. Bob fought waves and wind, at times so strong that they turned the kayak around in circles.
Debbie King completed the course doing head-in breaststroke all the way, accompanied by her husband Andy King. Despite experiencing some muscle cramping and a sore back, Deb took my hands at Big Chute 11 hours and 35 minutes after entering the water: our most tenacious swimmer!
Margo Wraight of the Canadian Heart and Stroke Foundation had been asking about swimming in the event for almost a year. She entered the water accompanied by Abbie and Liz at 7:20 a.m. with wetsuit, flippers, mask and snorkel. Abbie and Liz had fabulous Canada-flag umbrella hats to help keep the rain off and could be seen for kilometres on the river. Margo swam for the Heart and Stroke Foundation in memory of her husband, and completed her swim in just under eight hours.
Debbie Scott-McGarva is another first-time participant and has been training since reading about the swim in the newspaper last year. Debbie set herself a goal of completing her swim in less than eight hours and did it! She went into the water at 7:37 a.m. accompanied by Evelyn and good friendsWayne and Kim, who also have a cottage on the Severn River.
Encouraged by Debbie Scott-McGarva, her friendRod Paget joined the swim this year and he was accompanied by Megan. Rod finished just ahead of Debbie, also in less than eight hours.
Jennie Popplow set herself a goal of completing eight kilometres this year and met her goal! She exited the water with mild hypothermia, but was there at the end to cheer each of the swimmers in. Jennie was accompanied by her momLaura and brother Adamwho swam again this year in the Second Annual Kids' Swim For The Cure. The following day, celebrating her 20th birthday, Jennie was back in the water swimming along side 14-year-old LeeAnn Verbeek, doing the Kids' Swim for the second year.
Mark Bang, my second youngest teen, started his solo swim at Severn Falls, the 5 kilometre mark, along with the wind and rain. I got to swim beside him for 1.5 kms (a mom's dream), only leaving as his younger brother Eric was still in the water, half an hour ahead but tiring. Mark was accompanied bySusan Collard and both struggled with the gusty winds and very rough boat wakes for four kilometres: his longest swim. Mark got up the next morning to swim 1.6 kms in the Children's Swim for the Cure beside his mom, finishing just behind his brother Eric and friend Alex Nelles.
Our hero was Eric Bang, freshly graduated from grade 8. He entered the water just after 7 a.m. with his dad Steve in the kayak beside him, planning to swim as far as he could. Eric led the group of swimmers for most of the day, but began to wonder why he was still in the water around the 8 kilometre point, struggling with the cold, rough water. Steve was convinced that he could finish and encouraged and prodded Eric along, applying Vaseline to his toes and fingers to help repel the cold. Steve began using targets and white lies to keep Eric swimming, hoping that I would catch up soon. I reached him at about 10.5 kms. By that point, Steve was just trying to keep him in the water and moving forward. Our son was shivering, his lips were blue and trembling… "I can't go on mom," he said. "I want out!"
So I did what every mom would do – who knew in her heart that he could finish, and how important it was to him to do so – I lied! I plastered his toes and fingers with Vaseline with love and a gentle touch; got him to take more Gatorade to get some sugar into his system, and then I looked him in the eye and told him we had only 80 lengths (of the pool) to go and I knew he could do it (it was really over 100)!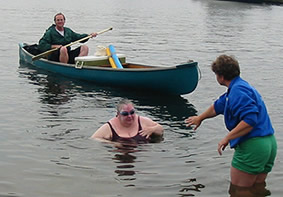 I told him I knew we could finish and that I would be right there beside him all the way in. And we swam, and he swam strongly, setting a great pace. We broke once more with three-quarters of a kilometre to go for more Gatorade then swam the rest of the way side by side, flanked by Steve on one side and my brother Jamie on the other, leading us to the finish. I was sobbing by the end with tears so full of pride, my own discomfort from the swim completely forgotten as I swam beside my youngest son. It is one of those moments I will remember forever and I have in no way completely captured the memory.
Many thanks
When all is said and done we will have raised well over $20,000 for breast cancer research over the past three years and perhaps closer to $24,000. There are many, many people to thank for helping to make this event such a success. Our canoe and kayak crews were outstanding again this year and had an endurance paddle because of the wind and boat wakes, arriving drenched from the rain. The support crew somehow had dry and warm towels waiting for us and their cheering could be heard while we were still far from the end.My family and friends make both swims possible, organizing, taking over food preparation, helping me to remember details and then ensuring that things get done. My heart-felt thank you to Joanne VanderVies' mom Anne for taking over the kitchen with Janet Verbeek, organizing, cleaning up, taking care of us!
Anne, a breast cancer survivor, accompanied my dad Herb Myles in the main runner boat, bringing news about the swimmers to our crews and encouraging us along.
My dad has accompanied me in the motor boat for all six of my Severn River endurance swims; his worried and loving face a beacon for me. My momMary-Lyn and sister Marjorie have organized the food for the swimmers and crew during the swim and after and fund raised. They have led the cheering at the end and welcomed me with a warm towel and huge hug. Both my sister-in-laws have watched over the children, helped where ever they were needed and gave their love and support to the swim.
Special friends Janet and Bruce Verbeek visit the cottagers to let them know what we are doing and bring back words of encouragement, new swimmers for next year, offers of help for next year and funds… publicists extraordinaire! Don Popplow has been at each of the swims, picking up swimmers and crew at Severn Falls early in the morning, and recording the special memories of our day on digital camera. His day finishes much later than the rest of us as Don downloads all of the digital photographs onto disc so they can be added to the website and/or so we can send them to the media.
Art, a friend and cottager, helps guide the crew and swimmers along the way and brings news and words of encouragement all day long. Cottager Garyalso acts as a runner boat, helping in the latter half of the swim when the swimmers and crew are exhausted and sometimes discouraged. He uses his winning smile to make us laugh and helps us to carry on. Cheryl, Gary's wife, and Hanna their daughter help with the food, organizing, extra hands magically appearing where ever they are needed. Sue and Caroline from work provide comic relief for my dad and cheer the swimmers along so enthusiastically, also publicists extraordinaire raising funds for the swim at work. Jamie, my brother, paddled beside me for the first time this year, doing an outstanding job. He kept track of my breaks, knew where the other swimmers were and passed on the news… just seemed to know what I needed, including a warm smile before I asked, leading me along the shortest route, helping me to catch up to Eric. Josh, our eldest had a supportive role as well. In years past watching over the relay swimmers, this year he provided river-taxi and child-watching services, a strong presence and extra set of willing hands, along with Melissa and her little one Mikayla. He also provided the guide boat for Eric in the kids' swim the next day.
Lastly but so importantly, Steve, the patient and caring dad and husband, the brunt of our short tempers and anxious moments, the calm, the organized, the detail person, the rock (even though he said that Eric is much more pleasant to paddle beside than me as he is so easy to get along with)!
It was another amazing year for each of the swimmers: personal best distances and times, finishing for the first time… New friendships have been formed, and a sense of hope prevails that the challenging swim we have completed will not only lengthen our lives as physically active people but serve to extend life for breast cancer victims everywhere.
– Debbie Bang
Photos by Don Popplow and Steve Bang.