Up with the dawn
The journey to raising $10,000 for breast cancer research began early on the morning of August 3: the first alarm clocks went off at 4:45 am; but many of us were already awake, thinking about our big swims and the goals that we had set for ourselves. Our nervous bellies didn't let us eat much but the crews ate well, enjoying their morning coffee. Joanne VanderVies and Debbie King were the first swimmers to jump into the misty morning water, leaving Swift Rapids at 6:25 am. Their goal: to reach Big Chute, 12.8 kms away. Joanne was part of the First Annual Swim for the Cure and completed six miles the year before. Her goal was to finish. Debbie King has been on a weight losing journey and this was her first ever long-distance swim. Both women were swimming for loved ones, Joanne for her mom, grandmother and aunt; Debbie, for her grandmother Doris and her brother-in-law David, who died of his metastatic breast cancer in February of this year.The remaining swimmers entered the water a little later, some at 8:20 am, some at 8:30 am, and the last three at 8:40 am. Organizing 17 swimmers at a starting point that is boat-access-only proved to be challenging, as most were accompanied by children, crew and fans. The adult relay team of Candy Bermingham, Anne Bermingham, Jane Cudmore, Bob Cook and Tim Bermingham left around 8:20 and Tim was the "closer", finishing for his team about 5.75 hours later. They had an excellent swim, encouraging each other all the way, with Tim in the kayak and Michael Howes organizing the changeovers and paddling the Zodiac for the whole 12.8 kms.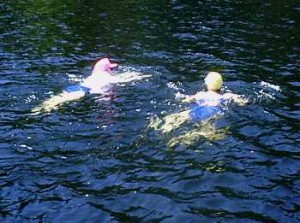 The other relay team was made up of Eric Bang, 12 years old, Michael Yetisir, 11, Susan Collard (adult), Sharleen Treleaven (adult) and Mark Bang, 14. Eric led for his team and swam an impressive three kms with confidence and strength. He was beaming as his Papa helped him out of the water, just as his mom and dad caught up. Michael went next, swimming against waves. He swam a very strong two kms taking his team to the 5-km mark and into Severn Falls.
Challenging conditions
Susan Collard was in next braving large waves whipped up by boat traffic and the winds. Her crew of Joan Cooke and Arlene Graham reported that she was determined and steady, covering about 2.5 kms for her team. Sharleen Treleaven was the fourth swimmer, entering the water with mask and snorkel around the 7-km mark. She continued to Big Chute and completed her first ever long distance swim of 5.5 kms.Jennie Popplow, 19, left the dock around 8:20 am accompanied by her brother Adam (13 years) and mom Laura. Jennie swam in the first Swim for the Cure and completed a strong six kms, the same distance as last year. Joy White entered the water at Severn Falls to start her first ever long distance swim and completed about seven kms. Her husband Paul and son Graham were alongside as she struggled in the extremely rough water. She was forced out of the water due to nausea, agonizingly close to her goal, a kilometre shy of Big Chute.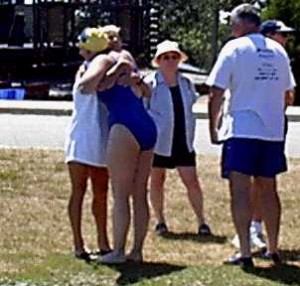 Wendy Wagland, Liz Yetisir and Debbie Bang were the last to enter the water at 8:40 am. Their husbands accompanied each, Peter Wagland with Wendy, Metin Yetisir with Liz and Steve Bang with Debbie. Jamie Myles, Debbie's brother, was the back-up canoeist again this year and paddled the full distance covering the crew breaks and encouraging the swimmers. They each swam really well: Wendy a very strong 4 hours 30 minutes, Liz finishing in 6 hours 15 minutes, and Debbie in five hours with several breaks to encourage the other swimmers along the way. Eric Bang got back into the water to swim the last 300 meters alongside his mom. My eyes were full of proud tears as our feet touched the sand and Eric helped me to get my wobbly legs underneath me.
Gift of encouragement
Once finished, Wendy and Debbie went back out to the remaining swimmers to lend their support. Wendy got into the water to accompany Joanne VanderVies for her last 2.5 kms, and they were joined by Jennie Popplow, Susan Collard, Liz Yetisir and Debbie Bang for the last 200 meters. Joanne credits her finish to the warm and supportive encouragement she received from her teammates. Was she proud, finishing in nine hours!Debbie Bang swam in with several other swimmers: Liz, who also swam in the first Swim for the Cure; then very proudly beside her son Mark who swam his 2.8-km relay leg without a stop, his finish giving his team a total time of 8 hours 15 minutes.
Debbie Bang's last swim was with Debbie King and her crew, Andy King. Deb King swims head-up breast stroke and really struggled with the wind and waves for most of her nine-hour, 45-minute swim. She swam 10 kms, at times only inching forward because the waves were forcing her into the shore; the first swimmer into the water and the last out.
Wondrous experience
We were privileged to have the most awesome crews with us – encouraging, motivating, smiling, cheering – there when we needed them. AND each of the swimmers was there for the other swimmers. We had runner boats (Art, Helmet and Gary) who traveled between the swimmers, letting us know how each was doing, sending words of encouragement through the line. The Swim for the Cure 2002 team was made up of real people, young and older, all shapes and sizes, many different endurance levels and swimming abilities. Each of the women, men and young men swam with their hearts, one stroke at a time, swimming for the special people in their lives. I was humbled to be a part of such an inspiring and courageous group of individuals – truly one of the most wondrous experiences of my life.